How to Make Your Homes More Secure
Jimcel Fuentes
Home improvement and decorating your homes is definitely fun. When it comes to home security, there's a lot to take in. There are a huge number of brands of security devices out in the market that you are likely to have a long list of questions about which one you need. Burglars can strike anytime so take no chances as security for your home is far too important.
We at Cebu Home Builders Centre will help you decide right away to secure your new home.
Here are important ways to secure your home
1. Use Only High Quality Locks
The security of your front door is extremely important to consider.  Your front door is often the easiest access and is the first call for intruders to gain access to your home. You might be surprised to know that most home robberies are accessed by burglars through a weak front door.  Install high quality door locks and select brands that are ANSI Graded 1 2 and 3 Certified.  We recommend these types of door locks and these are readily available in our stores.
A. Deadlocks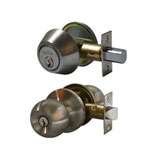 These type of locks offer great security as it is impossible to forced open using a knife or plastic card. Use this in conjunction with an entrance door knob for added security.
B. Five Lever Mortice Lock.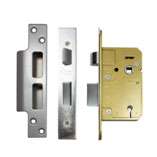 The more levers a door lock has the more secure and harder to break.
C. Multipoint Locking Systems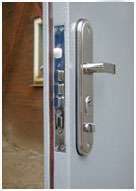 They provide an added layer of security to your front and back doors. Multipoint locks extend most, if not, the full height of the door and have multiple locking points along the edge of the door. This is considered to be one of the most secure types of front door lock.
D. Night Latch Locks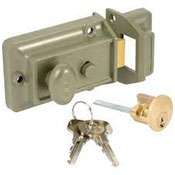 This is a great addition when securing your home and to be used in conjunction with other types of locks.
2. Use Solid Doors For Your External Door
Solid wood doors with a well fitted door frame are a fantastic option in terms of home security. Buying a new wooden front door for your home can seem to be daunting, but will provide an extremely solid door that is hard for intruders to break into. You may also opt for a composite door front door that is more durable as it is made from strong materials. Check out our article on type of doors for your home. And buying from a reputable door supplier will go a long way towards guaranteeing top quality materials and build quality.
3. Lights Around Your Home
Outdoor lighting discourages would-be intruders from targeting your home by increasing the risk of being caught. Install LED Solar flood lights with motion sensors on all sides of your home. They automatically come on when they detect any nearby movement. You can also set controls on your flood lights that will automatically turn the lights on at dusk. If there is an obvious spot where a person can hide, light it up using outdoor lightings. Check the light fixtures around your front entryway. Be sure that these and other outdoor lights are fully enclosed so that the light bulbs cannot be easily removed by someone.
4. Add Security Cameras
Installing security cameras are excellent tool for providing home security and the peace of mind that goes with it. Some are motion-activated and will record when they detect motion, as well as send you an alert. Other types are digital video recorders for seeing who came to the front door. Security cameras are most effective deterrents to break-ins when a burglar sees a security camera.
5. Use Warning Signs
Burglars are always looking for an easy target. Even if you don't have a dog, consider putting "Beware of Dogs" in your front yard. Do extra mile by putting a dog house and a bowl.
No one wants to become the victim of a home invasion. Implementing these tips will help discourage and prevent burglars. Keep your homes, your family and belongings safe.