Your guide to tile, granite, marble, quartz and other kitchen countertop materials
Jimcel Fuentes
Choosing the right kitchen countertops can be challenging, whether you go for granite, quartz, marble, tiles or laminates. Today we will talk about these popular kitchen countertops and select the best one for your kitchen style and space. It is also important to consider the type of material, availability and affordability. Later, you'll find everything you need to know about these countertops.
Laminates
Laminate countertops are made from layers of plastic that are bonded to a particleboard to create a strong solid countertop surface.
Laminate countertop is a great choice for someone on a budget and to those concerned about keeping renovation costs low. The downside is, this can't hold up to heat so don't place your hot pots directly on it. This also scratches easily, so don't use them as cutting boards. Available in different colors and patterns that would make it look like marble or steel.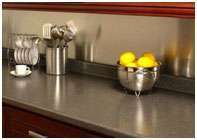 Tiles
Tiles can be an excellent and affordable option. Two common types of tiles are Ceramic and Porcelain. Thought tiles are great options for backsplashes, they also work great as countertops. The downside is they require tile replacement overtime and some re-grouting to keep it clean. Tiles tend to withstand hot pots, liquids and when properly glazed it won't easily stain. Check out our wide range of House Brand Tiles.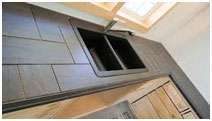 Quartz
Quartz are harder than granite, isn't porous like granite so it's easy to keep your countertops relatively bacteria-free. Quartz countertops are created by mixing quartz particles with resin and polymers to create an extremely durable surface that mimics the look of a natural stone. Despite its durability, quartz are easily get damaged by excessive heat so better use heating pads all the time.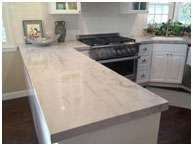 Granite
Granite is a very hard material natural stone and is not susceptible to scratches. It can resist excessive heat, so it can use near a range or cooktop and if you put on a hot pot, it can take the heat without being damaged. It is also resistant to stains and won't absorb liquid if sealed properly. Surprisingly, it retains its value for many years because of this quality. And no two pieces of granite are exactly the same, which means your kitchen's granite counter is truly be one-of-a-kind.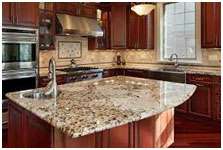 Marble
When it comes to selecting kitchen countertops, marble remains the top choice for many homeowners. Marble countertop has an elegant vein patterns, adding a note of luxury and class to any kitchen. It can resist high heat but the downside, marble is susceptible to stains and scratches so you'll need to be vigilant around spills and cutting boards.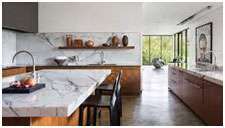 Wood
As kitchen design in the constantly changing world of materials and styles, the wood countertop remains a classic. The natural look and feel of wood is hard to beat with any other countertop materials. It is made from pieces of hardwood laminated together with glue for strength and stability. Wood is gentle to all your glassware and no clattering sound when placing them. When chipped or cut, it can easily be repaired and if it gets stained you can just refinish it. Available in too many colors and can be fabricated with inlays, patterns, borders, and stripes.