The Basic Types of Paint: Which One Is For You?
Jimcel Fuentes
So you want to give your home a fresh new coat of paint. There are so many different types of house paints in a hardware store and choosing the wrong type of paint finish could mean a do-over that costs twice as much. It is important to understand the differences between paint types in order to pick which one is best for your home and the specific project you are working. We will teach you what you need to know about the different types of paint and which one to use.
Primer Paints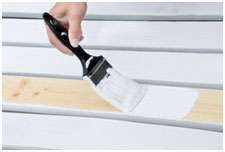 Priming walls may seem like an extra step in the painting process. It is what you apply before anything else. We recommend using primer paints first before your actual color paint is added for a professional quality finish. It helps the color paint adhere to the surface much better and ensure the color to come out true. Primer paint is also known as undercoat. There are two common types of primer available, one is a metal primer which is a rust inhibiting primer for steel and iron surfaces and other one is for standard primer for wood surfaces.
Water and Oil Based Paints
As the name suggests, oil based paints are made with oil while water based paints are with water. The type of solvent used in the paint is the key differences between the two. Oil based paints give off a strong odor which is that typical paint smell and is flammable while water based paints only release fewer odors making this a safer option for human health.
Enamel, Latex and Acrylic Paints
Enamel paint is the common name given to oil based paint because of their high class finish and durability however, this type of paint tends to discolor over time. This paint dries to hard and can take from 8-24 hours to fully dry, can be glossy or semi glossy, and resistant to moisture so it is perfect for surfaces what are exposed to harsh climates and high temperature outdoors. Since it dries hard, there is not much elasticity allowing the paint to likely crack. Also this type of paint adheres better to metal surfaces unlike latex paint, it is not based on water suspension, so there is no potential of developing rust.
Latex paint is made from acrylic resins and is water-based which is easier to clean up with just soap and water making it a better choice for most interior applications like walls, ceiling and furniture. This paint is of a much thinner consistency, making it dry very quickly. Latex paints also come in different gloss or matt finish options.
Acrylic paint is a chemical-based paint with higher grade of durability and weather resistance hence, a good option for many exterior and commercial applications. Acrylic paints are much stronger and will require the use of thinners or harsh chemicals to clean up your area and your brushes. These paints have an elastic quality which allows them to expand and contract preventing cracks and peeling, great to use for outdoor work and they will not fade over time. Acrylic paint usually has a standard matte or flat finish.