Know the Difference: Gas Cooktop vs. Gas Range
Jimcel Fuentes
What is a kitchen without a stove and oven? In fact, it is the centerpiece in your kitchen. Today, we will discuss this centerpiece to help you decide which one to buy by determining the type of cooking you do as well as the size of your kitchen.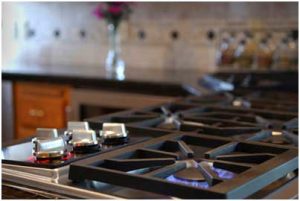 "Kitchen is a gathering place for friends and family. It is a place where memories are homemade and seasoned with love."
What exactly is the difference between the cooktop and a range?
Well simply, a cooktop ditches the oven portion of a range and only takes the kitchen counter space.  The burner knobs are typically located on the top of the kitchen counter.
A range, however, is both of these in one unit. The knobs and buttons on a range are typically located on the front to not get in the way of the pots and pans during cooking.
If your space is limited as you live in an apartment or a small house a 700x400mm 3 or 2 burners will fit the bill.
Cooktops are highly regarded for their precise heat control and powerful heat-ups. Available in a variety of designs and finishes including tempered glass and stainless steel for durability, performance, and style.
Advantages of Gas Cooktops
Gas Cooktops remains the best cooking option for their exceptionally quick response times and excellent control. Also versatile, giving you low heat if you're looking to bring sauce to a simmer, while also giving you intense heat if you want to bring something to a boil. It is easy to clean with its smooth stainless steel or glass finish and can only take a much smaller cutout on your kitchen counter space leaving you ample space for cabinets below.
When designing the kitchen you should keep in mind the exhaust options. Range Hoods are available to keep cooking exhaust and smoke out of your kitchen. They can be attached to the wall or hang freely from the ceiling.
 Advantages of Gas Ranges
A gas range is best for small kitchens with limited space because it houses the cooktop and oven in a single unit. They are easy to install and are available in different sizes, cooking types, and styles.
Cebu Home and Builders Centre Cooktops and Range Hoods Recommendations: